Where is the Food Going?
Our food distribution programs aim to reduce barriers that families face as they struggle with food insecurity by making food readily available throughout our five-county footprint. Through these distribution programs, Harry Chapin Food Bank feeds more than a quarter of a million people a month.

Our Food Distribution Programs
Harry's Helpings
In-School Pantry Program
Fulfill Mobile Pantry Program
Partner Agency Program
Care and Share Senior Feeding Program
Commodity Supplemental Food Program (CSFP)

Food Rescue
As the largest hunger-relief nonprofit and the only Feeding America member in Southwest Florida, Harry Chapin Food Bank is uniquely positioned to lead our community in the fight to end hunger. Our multifaceted approach is leveraged by our membership with Feeding America and includes rescuing food that would otherwise go to waste from various retail and grocery stores, national food providers and farms.
Our membership with Feeding Florida, the state's lead organization in the fight to end hunger, provides resources during times of emergency and hardship, in addition to providing a healthy, adequate and consistent food supply to every community every day.
Retail Rescue
Retail Rescue is a major source of food for the food bank.
Every week, we collect shelf-stable and perishable food from more than 140 retailers in Southwest Florida. Donations include produce, frozen meat and deli items.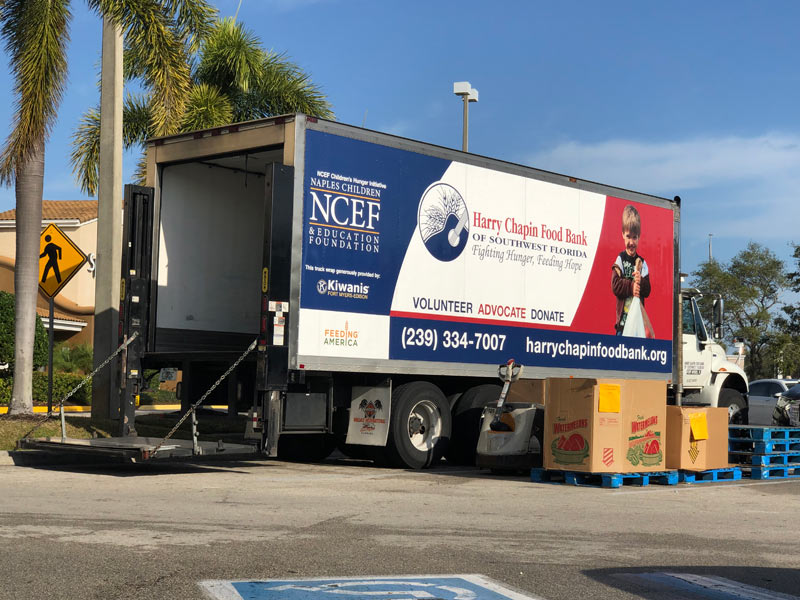 Fresh Produce Rescue
We rescue produce from local farms that are not part of the Feeding America relationship as an extension of our food rescue strategy. Locally, countless organizations, communities and businesses collect and donate food that we use in conjunction with our food rescue. Almost 30 percent of the food families receive is fresh produce that is donated by growers, retailers and other sources. These donations enable the food bank to promote nutrition by providing fresh fruits and vegetables to clients who typically cannot afford or do not have access to such food.
Local Food Drives
Community volunteers are needed to hold food drives throughout the year to help our neighbors who may not know where their next meal is coming from.
You can organize a drive yourself or in collaboration with a business or group. Visit our Give Food page to find out more.
The Temporary Food Assistance Program (TEFAP)
The Temporary Food Assistance Program (TEFAP) is a federal program that helps supplement the diets of families who are low-income. We distribute this food through designated partner agencies and Fulfill Mobile Pantry Program.