Please make checks payable to:
Harry Chapin Food Bank
Send checks to:
Harry Chapin Food Bank of Southwest Florida
3760 Fowler St.
Fort Myers, FL 33901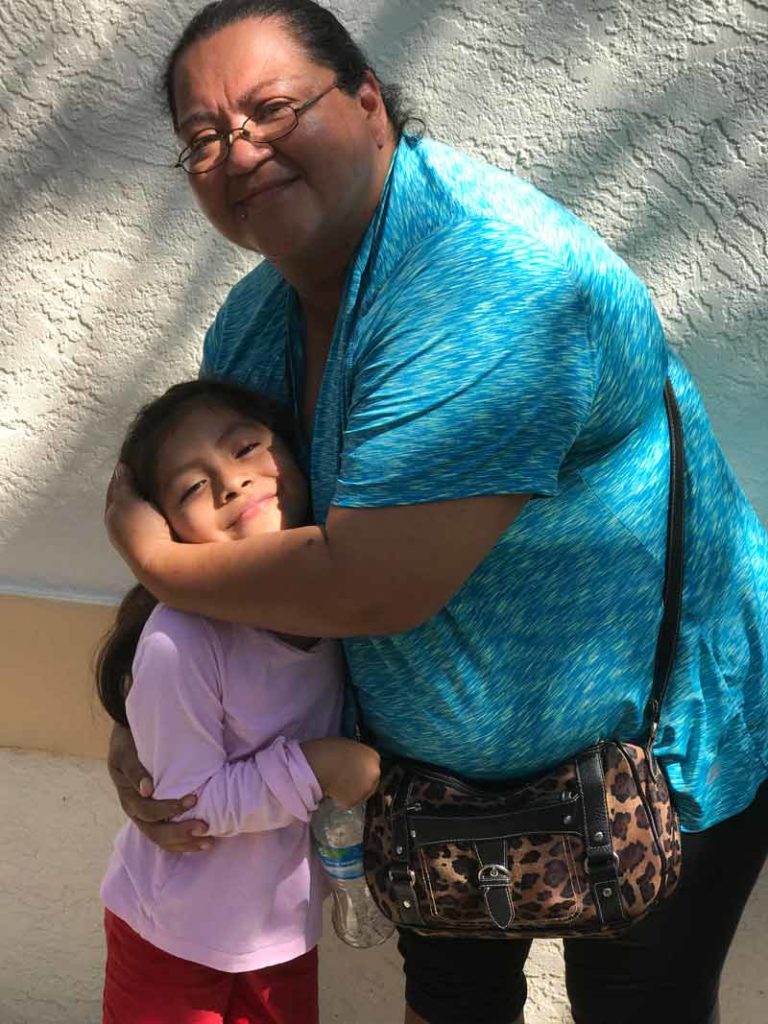 Your Legacy, Our Future
Consider the values you hold dear. Do you believe that no child should go to school on an empty stomach? Do you think that no senior should skip a meal in order to pay medications? Or that a working family should not have to forgo food to pay their rent?
Planned giving allows you to take the time now to leave a legacy that is an enduring expression of your deeply held values while also taking care of your loved ones.
When you make a planned gift to Harry Chapin Food Bank, you help ensure that:
Hungry children, families and seniors have access to fresh, nutritious food.
Our food-pantry network, mobile pantries and other programs remain strong and effective.
Our neighbors in need have a voice.
Tailored to your financial needs, planned gifts can help you make a meaningful and lasting contribution. Whether you require steady income now or you wish to reduce the estate burden on your heirs or family, there is a planned gift to suit your needs.
Charitable Gift Annuity
Make a gift of $10,000 or more and receive a guaranteed lifetime income stream from us. While Harry Chapin Food Bank does not administer charitable gift annuities, you can establish one through our national affiliate, Feeding America, or any administrator of your choice, and name Harry Chapin Food Bank of Southwest Florida as the gift recipient.
The following information may be used to complete your legal documents. Our official name is "Harry Chapin Food Bank of Southwest Florida, Inc." We are incorporated in the state of Florida, and our federal tax identification number is 59-2332120. A copy of the food bank's official registration and financial information may be obtained from the Division of Consumer Services by calling toll-free within the state. For information, contact the Florida Department of Agriculture and Consumer Affairs at 1-800-435-7352 or visit freshfromflorida.com.
Transferring stocks that have appreciated in value can provide greater tax advantages than a gift of cash. The market value of securities is deductible, subject to applicable limitations, and as the donor, you avoid paying capital gains tax on the appreciation.
To donate stock to Harry Chapin Food Bank of Southwest Florida, please contact:
Barbara Evans, chief development officer
baevans@harrychapinfoodbank.org
239.334.6881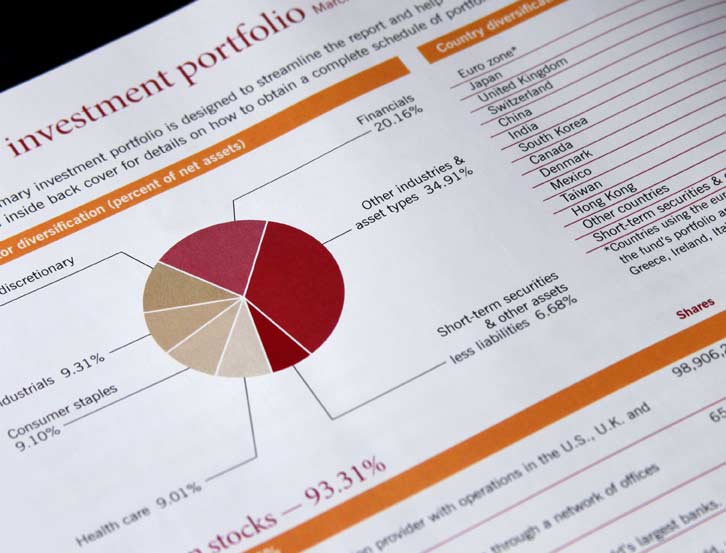 Please ask your stockbroker to include your name with this donation, so that we can thank you for your generous support.
Consider a Charitable IRA Rollover Gift
The Charitable IRA Rollover gift is a unique opportunity for donors over 70 ½ years old. Federal legislation allows you to make a tax-free distribution from your IRA directly to a qualified charity, such as Harry Chapin Food Bank.
Distributions must be made from your IRA trustee directly to Harry Chapin Food Bank for this gift to count as part of your qualified minimum distribution.
Gifts up to $100,000 are eligible.
No taxes are paid on the qualified minimum distribution used to fund this gift, so no tax deductions are available.
Gifts cannot be made from 401(k) or 403(b) accounts and cannot be made to charitable remainder trusts, gift annuities or donor-advised funds.
Donor-Advised Funds
Establish a donor-advised fund with a public charity, such as a community foundation or Fidelity Charitable, so your money can be invested and grow tax-free. Recommend Harry Chapin Food Bank of Southwest Florida as a grant recipient.
Consider a Gift of Securities
Giving in sensible and practical ways may help minimize your tax burden and stretch your charitable dollars. Gifts of appreciated securities include stocks, bonds and mutual funds.
Instructions you can provide to your broker can be received by phone, email, or fax.
Here are some ways that securities held for more than 12 months can offer potential tax savings:
A gift of appreciated stock may eliminate capital gains tax.

A gift of appreciated stock allows you to claim a charitable deduction up to 30% of your adjusted gross income.
Corporate Giving
Your corporation, service club or organization can: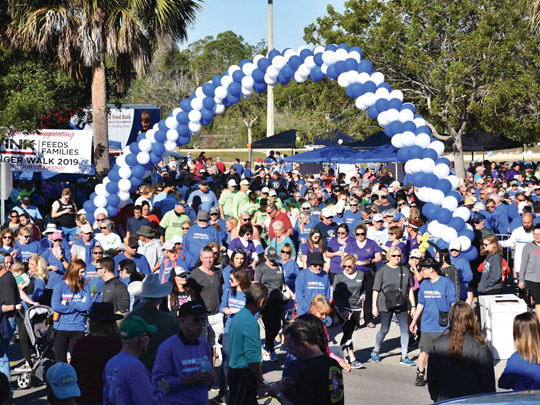 Sponsor a program, event or activity.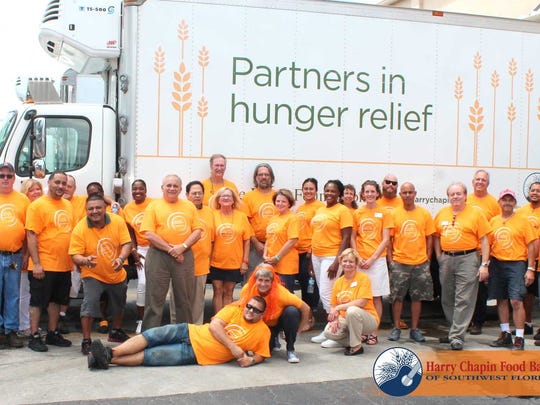 Partner with us in a way that is in tune with your corporate values and culture.
Become a superstar and join our mission to lead our community in the fight to end hunger. Your business, service group or school can take part in our Superstar Wall program with three simple steps.
Funds: Raise a minimum of $500 for the food bank. Remember, we can turn every dollar donated into $8 worth of food.
Friends: Schedule a volunteer day. There are opportunities for everyone to be part of our mission to lead our community in the fight to end hunger, whether it's by sorting food, donating skills or services, or distributing food at a mobile food pantry.
Food: Set up a food drive, register your drive with us, collect the food and drop it off. Every donation helps.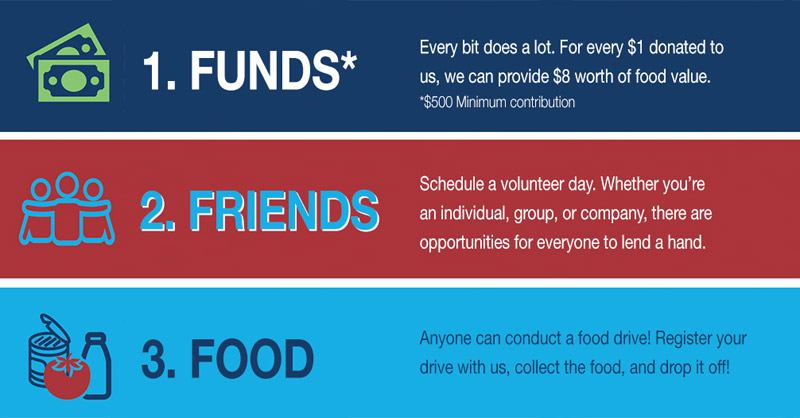 Complete these three easy steps and we'll proudly display your group's T-shirt on our new Superstar Wall for a year to celebrate your commitment to feeding our neighbors in need.