Angela and Rene Rivera met and fell in love while working at a resort in Pennsylvania. He's a chef, and she's in housekeeping. Since then, they built a life together in Florida with their two sets of school-aged twin daughters.
When Hurricane Ian wiped out the bridges connecting Fort Myers to the Sanibel and Captiva barrier islands, both Angela and Rene lost their hospitality jobs at local resort hotels. Without their primary sources of income, they are struggling to make ends meet and provide food for their growing children.
"I won't have work for maybe the next year," Rene said.
"We don't have money to pay the rent. That's my main concern," Angela said. "I'm scared because I don't know what moment my landlord is going to come in and say, 'You guys have to go.'"
The hurricane also caused a power outage across their community, and the family had no electricity for almost an entire week.
With their daughters Chevonnie and Chevonique, the Riveras visited Gladiolus Food Pantry in the Harlem Heights neighborhood of Fort Myers where they received fresh fruit and vegetables, meat and a variety of shelf-stable foods. Gladiolus Food Pantry is one of the many partner agencies enrolled in Harry Chapin Food Bank's Partner Agency Program, a multi-faceted food distribution program that serves our entire five-county footprint. As a trusted extension of our mission, we provide Gladiolus Food Pantry with roughly 70% of the food inventory that they distribute to families like the Rivera's.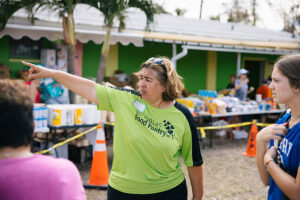 By selecting strategically located partner agencies, we can target locations of high need or food deserts to bridge the gap between families who are hungry and accessible, nutritious food. We also utilize the Feeding America recommended Healthy Eating Research (HER) nutrition guidelines to procure quality food and promote healthier eating choices for the people our agencies serve. Angela and Rene are able to give their daughters nutritious food that nourishes their bodies and minds through our Partner Agency Program.
"It's going to be a long recovery, but we just have to be patient, continue to pray, and keep searching," Angela said.
More and more of our partner agencies are reopening after being impacted by Hurricane Ian. They are serving families who have never had to wonder where their next meal is coming from until the storm came through. With your help, Harry Chapin Food Bank is ensuring that no one has to go hungry during these difficult times.