Brantley's birthday present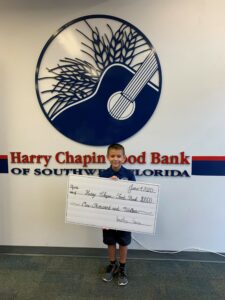 Brantley Garcia was all set to celebrate his seventh birthday by holding his third annual peanut butter and jelly food drive to benefit Harry Chapin Food Bank.
Then the coronavirus intervened, with its accompanying precautions for social distancing and handling of food items. So Brantley held a fund drive instead, set up by his grandmother, Tonia Fisher. He raised $1,000. That's a lot of PB&J!
The Canterbury School student started celebrating his birthday by helping to feed others at age 5, when he brought in 270 pounds of PB&J and $150. For his sixth birthday, Brantley brought in 417 pounds of food, including PB&J and other nonperishables.
For his seventh birthday, Brantley presented us with a check that was almost as big as he is. "I like to help people," he said.