So much has happened in the past 12 months. Southwest Florida has endured the pandemic, crippling inflation, rising prices, and most recently, the devastation of Hurricane Ian. Many of us are ready to put 2022 behind us and are looking forward to the new year with a renewed sense of hope.
Our namesake, Harry Chapin, once said, "To know is to care, to care is to act, to act is to make a difference." We thank our donors for caring, for acting, and for making a difference in the lives of the nearly 300,000 people your food bank feeds each month. When Hurricane Ian struck Southwest Florida, so many families were left struggling to provide food — the incredible generosity of our donors enables us to ensure that no one has to go hungry as our community recovers and rebuilds.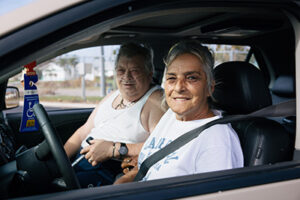 The food bank gave hope to Louis and Barbara, a retired couple who opened their home to six additional family members whose houses sustained significant damage during Hurricane Ian. They were under a "boil water" advisory and had no power for ten days after the storm hit. The water and MREs they received at our Fulfill Mobile Pantry Program emergency distributions were a relief. Your food bank played an essential role in providing healthy food and clean drinking water for Louis, Barbara, and their family.
We also offered help to Angela and Rene, and their two sets of twin daughters. When Hurricane Ian wiped out the bridge connecting Fort Myers to Sanibel Island, both Angela and Rene lost their hospitality jobs at local resort hotels. Without their primary sources of income, they struggled to make ends meet and provide food for their growing children. The family visited Gladiolus Food Pantry, one of our partners enrolled in our Partner Agency Program. There, they received fresh fruit and vegetables, meat and a variety of shelf-stable foods. More and more of our partner agencies are reopening after being impacted by the storm. They are serving families who have never had to wonder where their next meal is coming from until the storm came through.
Harry Chapin Food Bank is proud to serve as the safety net of the community, bridging the gap between families who are hungry and accessible, nutritious food. We could not do this important work without the incredible generosity of our donors. Because of them, we have been able to respond to the tremendous need caused by Hurricane Ian.
Your support will nourish and change lives. Will you partner with us? Together, we can lead our community in the fight to end hunger and keep giving food and hope to families in need.
To support our food distribution programs, click here.