Have you seen the drastic increase in the price of gas? Are you noticing that each trip to the grocery store costs much more than it did a few months ago? Today's economy has everyone reevaluating their personal spending habits.
The families that we serve are facing a losing battle with inflation; they are juggling double-digit rent increases, outrageous gas prices and eye-popping prices at the grocery store. The weight of these surging expenses forces them to drop something in order to ease the burden. Our families cannot stretch their budgets like they used to, and instead, they must make tough decisions on what to cut in order to make ends meet.
A few weeks ago, Selina Flores picked up a Harry's Helpings food kit at Pathways Early Learning Center in Immokalee. Selina's youngest is enrolled at Pathways, and this two-parent household can no longer afford to purchase meat. Their monthly grocery bill has nearly doubled. Their income has not.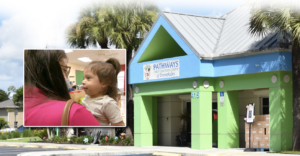 Harry's Helpings is an innovative feeding program that provides supplemental food kits for families at childcare and early learning education centers, like Pathways, where traditional feeding programs are not feasible. Each kit contains enough food to feed a family of four for five days. Whereas before, Selina and her family would supplement their meals with Harry's Helpings food kits, they now rely solely on the program as their main avenue for nutritious, healthy food.
Your food bank is also facing a battle with inflation. Not only are we still spending roughly $1 million dollars each month on food, we are also facing 25% increases in the price of food. The costs to fuel our trucks have jumped from roughly $7,000 a month to nearly $20,000 a month. Transportation expenses that we pay to ship the food we purchase have doubled. We do not have the luxury of reevaluating our spending habits—we must find a way to ensure that no one has to go hungry.
Right now, YOU can make a difference to the quarter of a million people that we serve each month. St. John's Episcopal Church presented the food bank with a $122,000 challenge grant. With your support, when we raise $122,000, your dollar will be fully matched, doubling the impact for those who are struggling to provide food for their children and families during this difficult economic time.
We need the help of many in order to deliver on the promise of our mission. Your support is more important than ever. You can help ensure that no one has to go hungry.Can we count on your generosity to make a gift as we strive towards the challenge grant goal of $122,000? Together, we can provide hope for families who are hungry."
To support our efforts, please click here.