As donations continue to be counted, the total for the 2020 Hunger Walk continues to rise. As of Monday afternoon, Jan. 21, the Walk has raised more than $240,400 for Harry Chapin Food Bank!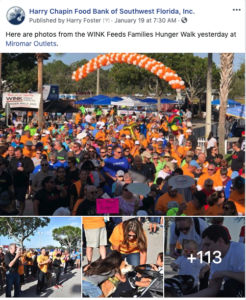 The Hunger Walk, held Jan. 18 at the Miromar Outlets in Estero, is the food bank's signature fundraiser of the year. An enthusiastic crowd of about 1,000 walkers showed their support for helping feed people in need.
"We're overwhelmed by the community support and enthusiasm shown at our 2020 Hunger Walk," said Richard LeBer, food bank president and CEO. "As usual, our community always shows us heart when the need is greatest."
One in 8 people in Southwest Florida, including 1 in 5 children, are food insecure, which means they may not know where their next meal is coming from. The Walk supports food programs that feed children, families, seniors and others in need. These include the Care and Share: Senior Feeding Program, Harry's Helpings, In-School Pantries, and Fulfill Mobile Pantries. The food bank also distributes food through its Partner Agency Program, a network of more than 150 partner agencies.
All funds from the Walk will stay in the five-county area that the food bank serves: Charlotte, Collier, Glades, Hendry and Lee counties.
The Walk was presented by Bill Smith Appliances & Electronics and the Copperleaf Charitable Foundation. We thank them and all of our other sponsors and supporters.