Cynthia knows what it is like to be hungry. Growing up in Immokalee to migrant parents who travelled wherever they could find work, she would start each school year in a different town or sometimes in a different state as her family followed the harvests around the country. Being a new student is stressful in and of itself, but Cynthia had other worries. At each school, she wasn't sure if free or reduced breakfast and lunch were available, leaving her afraid she wouldn't have enough to eat throughout the day. The one uplifting constant in her life was that every January, Cynthia's family returned to Immokalee, where her parents worked in the fields while she and her sister returned to school and the guarantee of nutritious food. Cynthia enjoyed learning, and her parents instilled in her the importance of education and how it is the best path to a brighter future.
Cynthia didn't grow up with the same opportunities as children from more affluent families, yet it didn't stop her from graduating high school and college. During her last year of college, she returned to Immokalee to give back to the community she always called home and to her parents who always believed in her and pushed her to be better.
For the past three years, Cynthia has worked at Pathways Early Education Center in Immokalee. She knows all too well that 97% of the children in Immokalee are considered "economically needy." To provide every child with the best possible nutrition available, she became a strong advocate of Pathways partnering with Harry Chapin Food Bank.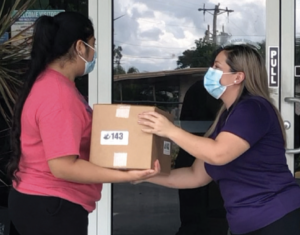 Harry's Helpings is an excellent fit for early education centers, and Pathways is currently one of the food bank's proud partners. Harry's Helpings aims to reduce barriers that most families face as they struggle with food insecurity. It is one of two programs offered through the food bank to ensure children have enough nutritious food available at their respective places of learning. This innovative feeding program provides a family of four with enough food for 15 meals.
Cynthia is pursuing her dream of directing an early childhood learning center by simultaneously working on her Master of Public Administration and managing the Harry's Helpings distributions at Pathways. As children finish their day with laughter and excitement, she helps families pick up their food kits and sees the gratitude in their smiling faces.