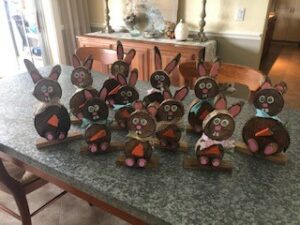 Somebunny cares
The onset of the coronavirus prompted Kim Shephard to turn a conversation piece into a mini-fundraiser to help feed those in need.
Kim and her husband had saved some beautiful pieces of wood from downed trees on her Naples street after Hurricane Irma. The collection included oak, eucalyptus, olive and slash pine. An avid crafter who likes do-it-yourself projects, she wanted to create something special out of the wood when the moment came, but in the meantime, they were a pretty conversation piece in her foyer.
The moment arrived after the coronavirus pandemic hit. With her and her family under in-house quarantine, Kim finished her household to-do list and then turned her eyes to something creative and fun. It was Easter time, so she decided to make bunnies out of slices of the wood from Irma.
She made 11 in all and dubbed them her "Corona Quarantine Bunnies." But how to decorate them? "Feeling a little silly and stir-crazy from my kids being home with online schooling, from everything being closed and limited options to get needed household items, I decided to let that guide me painting the faces for the bunnies," she said.
They came out looking a bit zany and frazzled, something every mother can relate to during the pandemic, she said. "We're all a little bit like this bunny in this strange time."
She shared photos of the bunnies on her social media accounts and there was instant demand. She sold them for $20 each and then matched that amount dollar for dollar. The final gift from Kim and the 10 families who bought her bunnies is $440.
Harry Chapin Food Bank was the natural recipient for the funds, she said. Her whole family has volunteered to help organizations that serve the food insecure over the years, and she felt the food bank was the strongest and most visible opportunity for those in need at this time.