It only takes a few minutes to see that Immokalee residents Shy Vasquez and her husband, Christopher, are wealthy. This wealth is not reflected in their bank accounts but lives comfortably in their family relationships, values, beliefs and hopes. Economically, however, this family is struggling. They struggle to make ends meet. They struggle to provide food for their children.
Shy works as a supervisor of housekeeping at NCH Healthcare System and is going to school to become a registered nurse. Christopher lost his job as a bus driver with Collier County Public Schools due to the pandemic. Their two preschool-aged children are enrolled in Pathways Early Education Center in Immokalee. Pathways has partnered with Harry Chapin Food Bank so that families like this one don't have to go hungry. 
Shy shares that her children come to her and say, "Mommy, I'm hungry."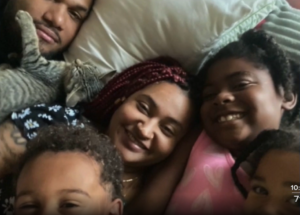 Because of the generosity of our community, Shy is able to give her growing children something to eat. Shy's children are enrolled in our Harry's Helpings Program at Pathways, which aims to reduce barriers that most families face as they struggle with food insecurity by making food kits readily available where their children attend pre-school or after-school programming. This innovative feeding program provides a family of four with enough food for 15 meals. 
Shy and Christopher love that the food kits that they receive from the food bank help them provide the necessary stability for their family. Shy is not bashful to credit the food bank for helping her family, and many others in the community who are hungry, survive this pandemic. 
Tears well up in Shy's eyes as she expresses the overwhelming gratitude she has for the thousands in this community who have come together to help families like hers. Shy states that it is a good thing when you see how happy people are to receive a box of food or a kind gesture. She is grateful that her children are learning the lessons of compassion and community. 
Thank you for helping us feed families like Shy's, as well as the more than a quarter of a million people that we serve each month with nutritious food.