Friday, July 17, 2020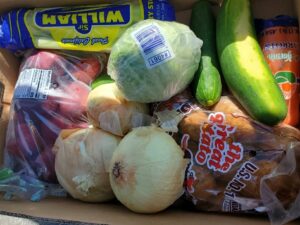 The Coronavirus pandemic has stretched into its fifth month. The food bank has navigated many significant challenges, but we persist with our conviction that no one should go hungry. We proudly share that we distributed 974,198 pounds of food this week, which means 811,832 meals were served to those who are hungry.
The number of positive Covid-19 cases continue to rise in Southwest Florida. Some of our partner agencies have elected to close as they discovered members of their organization tested positive to Covid-19. These closures caused your food bank to shift distributions to solve the issue of meeting the need that the agencies served. Nonetheless, our drive-thru distributions continue to grow. The demand has necessitated an 137% increase of food distribution in our five-county footprint. If you are looking for food, please click here.
Several of our drive-thru distributions are shorthanded. Specifically, we currently struggle to find volunteers for these distributions. At times, we fill our volunteer shortage with food bank staff. This is acceptable on occasion, but recently our dependency on staff has been disruptive. We depend on volunteers to complete our mission. We give thanks however to the 461 volunteers who have given 1,502 hours of their time this week, primarily in the warehouse. If you are well, able, and willing to volunteer, please click here to sign up.
These past five months have been unprecedented. We are deeply grateful that so many have joined us in our noble mission to lead our community in the fight to end hunger. You have been generous, giving, caring, loving and steadfast. Thank you. Together we are making a difference.
To support our efforts, please click here.