Tuesday, May 5, 2020
Our April update
It's astonishing that we are already into the fifth day of May. The days are long but the weeks and months are flying by. Your food bank team is committed to our mission. Your food bank has been doing everything in our power to ensure that no one in our community has to go hungry.
Your food bank has completed its first full month of Coronavirus distributions. In the month of April, we have distributed over 20,200 food kits which have been supplemented with fresh produce throughout our five-county footprint. These food kits are on top of the normal distributions that we do through our partner agency program and our two programs that feed seniors of low incomes. In April, your food bank distributed 2,523,000 pounds of food. That is the equivalent of 2,102,500 meals.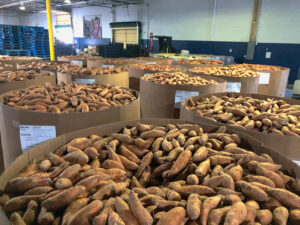 The amount of work that is required to produce these results cannot be understated. The way our community is responding to the pandemic is truly inspiring. We love how each of the indispensable ingredients, our funders, volunteers, community activists, retail stores, farmers, partner agencies, and our food bank team, work in concert with each other to produce the simple meals we provide. Our recipe of working together may yield simple meals, but the meal is rich in love.
#GivingTuesdayNow is a new global day of giving and unity that is taking place today – in addition to the regularly scheduled Dec 1, 2020 #GivingTuesday – as an emergency response to the unprecedented need caused by COVID-19.
Frankly, your food bank feels as if each and every day of this pandemic has been a #GivingTuesdayNow day. Your food bank is humbled by your generosity, your support, your volunteerism, your love. You provide us with the fuel to continue, to overcome the many challenges we face. Thank you.
If you are looking for food, please click here.
To support our feeding efforts, please click here.
If you are well, able, and willing to volunteer, please sign up here.