Friday, May 15, 2020
The very best of humanity.
Your food bank continues to see staggering car lines at our drive-thru distributions. These cars often carry families whose lives have been turned upside down to the point, that they lost their ability to buy their own food. These families often express their gratitude for the food they receive with thank you notes and sometimes with tears! Many of these families have never needed help before. Kindness, generosity, care, concern, love, and the very best of humanity emerge at every distribution. As our community comes together to ensure that no one has to go hungry, a feeling of connection overcomes us. It is our privilege to be a conduit for this graciousness. Thank you for being our helper.
It has been more than two months that the Coronavirus has upended our operations, and our conditions change rapidly and often. Today marks the seventh week of drive-thru distributions.
This week, we distributed a total of 744,429 pounds of food, or the equivalent of 620,357 meals. The amount of food that we rescue from our retail partners continues to fluctuate dramatically. Managing the inventory remains a tremendous challenge for your food bank. In some cases, our orders are delayed by eight weeks. Nonetheless, we are proud that we distributed 176,916 pounds of fresh produce this past week, which included fresh apples, oranges, carrots, onions, and potatoes.
Together we are leading our community in the fight to end hunger. Together we witness the very best of humanity.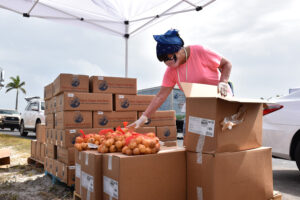 If you are looking for food, please click here.
To support our feeding efforts, please click here.
If you are well, able, and willing to volunteer, please sign up here.