Friday, March 5, 2021
It's almost been one year since the Coronavirus has turned our world upside down. In early March 2020, our food sourcing channels had not been disrupted yet, but we had a strong suspicion that it would happen. We also knew that we would need to modify our distributions and operations. We knew that many of our volunteers would stop coming due to their age and related risk. We didn't have any idea that one year later, we would still be living in a pandemic and facing challenges daily.
Prior to the pandemic, most of the food that we distributed was donated to us from food retailers, food producers, private donors, and/or provided by the government. We purchased only five percent of our food, and that was for specific programs. Each month, we would distribute 2,000,000 pounds on average and spend $37,500 a month on food.
Now, our food sourcing has shifted drastically. We are distributing a little more than 4,000,000 pounds of food a month while spending $1,000,000 each month to purchase food, as we continue to experience disruption in our normal supply channels. Our largest source of food remains the government; however, its percentage of our overall source has reduced considerably. An unfortunate reality with government-sourced food is the instability of its availability. We are seeing sweeping reductions in the amount of food that the government is providing. However, the most surprising increase in our food sourcing is the food that we rescue. While the amount of food that we rescue continues to fluctuate, they remain at levels higher than they were prior to the pandemic.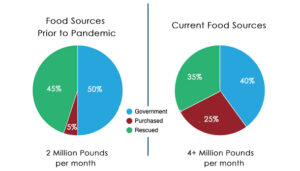 Sadly, the need for food continues to climb. Prior to the pandemic, we would serve 28,000 people who were hungry each week. Now we are serving more than a quarter of a million people each month who are hungry.
This week, we distributed 838,738 pounds of food to those who are hungry. We are profoundly grateful to those who have helped make this possible. We knew as this pandemic began that the only way that we would ensure that no one has to go hungry is if we worked together. Today, we celebrate that together we have made a difference. Together, we have distributed 41,043,934 pounds of food since the pandemic began. Thank you for helping us lead our community in the fight against hunger.
If you are well, able, and willing to volunteer, please click here to sign up.
If you are looking for food, please click here.
To support our efforts, please click here.