Friday, April 17, 2020
1,188,872!
1,188,872 pounds of food have been distributed in our five-county area since the first of April. Since the average meal weighs roughly 1.2 pounds, that means we have provided 990,726 meals in the last 17 days. This is a 20% increase on what we achieved during the same period last year. This is incredible, particularly when you consider that we have had to shift our traditional food sources. This is a testament to your food bank's staff. They are doing amazing work to ensure that no one has to go hungry.
The 1,188,872 pounds of food includes fresh produce that we have rescued from Florida farmers. We are building many new relationships with Florida farmers and are doing our best to curb any waste that may occur.
Your food bank is thrilled to report that in the last few days our traditional food sources are improving remarkably. Our suppliers and retail stores are reporting that they are seeing their inventories and supply channels rebound to more normal levels. As a result, our distribution grew by nearly 75,000 pounds this week. We anticipate total poundage will continue to grow. This is truly a reason for celebration!
We are completing our third week of drive-thru distributions. These distributions are approaching capacity. We'd like to thank local law enforcement who have been instrumental in managing the increased traffic around our distribution sites. In several recent cases, we have had to turn cars away. We are working to avoid this as much as possible.
Our normal distributions are also continuing: CSFP, Care and Share: Senior Feeding Program, and our Partner Agency Program. We provide our partner agencies with more than 70% of their inventory, and we take pride in their efforts. Our CSFP and Care and Share: Senior Feeding Program have increased their distribution by providing a two-month supply to our seniors to minimize their trips and potential exposure to COVID-19. If you are looking for food, please click here.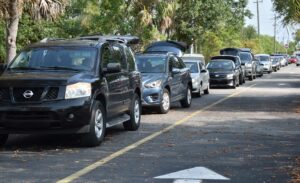 We are seeing enormous growth in need. The car lines of families waiting for food continues to grow. Your food bank has witnessed more than 50% growth in the demand for food in our drive-thru distributions. Many of our partner organizations also report a 50% increase in food distribution. We expect this growth to continue. Increased availability of food could not come at a better time!
To support the growing needs of our community, your food bank has set a new goal: we are planning how to increase the number of food kits for our drive-thru distributions another 50% to 7,500 each week, while continuing to provide our partner agencies with as much food as we can get our hands on. To support the increased distributions, please click here.
Your food bank still needs volunteers to help us sort produce, build food kits, and distribute food at our drive-thru distributions. This is a vital and rewarding activity, and we are taking every precaution to keep it as safe as possible. We have organized the work to provide maximum social distancing. Our volunteers and staff are wearing masks and gloves which we happily provide for them. We have adjusted our volunteer schedule to stagger and limit the number of volunteers in our facilities. If you are well, able, and willing to volunteer, please sign up here.
Your steadfast support and generosity are truly inspiring. Together, we will prevail in our mission to lead our community in the fight to end hunger.