As of  Friday, April 3, 2020
"Hunger changes beans into almonds."
As we wrap up our first week of drive-thru distributions, we are blown away by the things we have seen and experienced.
Resilience. Many of our partner organizations have been able to adapt their distributions to maximize the necessary social distancing while feeding the hungry. To our delight, the amount of fresh produce that we have been able to distribute has been higher than we expected. At our drive-thru distributions, we have been able to supplement our shelf-stable food kits with potatoes, tomatoes, watermelons, bags of salad, onions, limes, peppers, Boston Bibb and romaine lettuces. Our volunteers helped us develop a method that lends to our ability to distribute these quality ingredients while minimizing exposure. Resilience at its finest.
Gratitude. There are many layers to the gratitude we have experienced. We are grateful to many that have offered their financial support. We are grateful to those who have come to work in our warehouse or at our drive-thru distributions. We have seen how grateful that those who are hungry are as they drive away with trunks full of fresh foods and our shelf-stable food kits. We are grateful that our food sourcing channels have been flooded with fresh quality produce, a pleasant surprise amid food hoarding. Gratitude abounds.
Perseverance. Your food bank's staff have been working around the clock to ensure that the growing number of people who are experiencing hunger have a place of hope to turn to during this crisis. Your food bank's staff have been nimble and creative in the pursuit of sourcing food.  Due to this perseverance, we distributed over 100,000 pounds of fresh food this week, an amount very close to a normal distribution of produce. Some of our volunteers are working multiple shifts helping our staff meet its mission to lead our community in the fight to end hunger. Perseverance is infectious.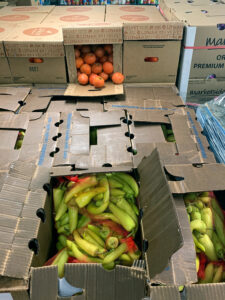 Partnership. We have a network of over 150 amazing partners. Today, Harry Chapin Food Bank delivered 11,016 pounds of food to Grace Place for Children and Families, one of our strategic partners located in Golden Gate. Golden Gate is the most densely populated pocket of need in Collier County. Grace Place operates a food pantry every Saturday. Patty Urrutia, the Grace Place food pantry manager has managed that pantry since it opened in 2008. In the past, Patty has observed some hesitation to try new or different foods. Patty comments now that that hesitation has been replaced with a willingness to try and gratitude for what is available.
The Italians are famous for many of life's pleasures, the arts, music, fashion, and food. It isn't surprising that there is an Italian proverb on the topic of food that is rather poignant in today's pandemic. "Hunger changes beans into almonds."
This sage thought appears to be holding the test of time with those who are hungry.
To support our feeding efforts, please click here.
If you are well, able and willing to volunteer, please sign up here.
If you are looking for food, please click here.