Friday, January 8, 2021
Helen Keller once said that "Alone we can do so little: together we can do so much." Your food bank can attest to the truth in those words. Together, we have distributed a total of 33,465,597 pounds of food into our five-county footprint since this pandemic began in March. Together, we have provided 27,887,998 meals to those who are hungry. Since March, our staff has been augmented by 3,461 change makers who have given us 62,366 hours to help make our world right. We celebrate that so many of you have invested in our food distribution programs ensuring that your food bank can feed more than a quarter of a million people each month.
These first few days of 2021 don't look any different from the new normal that this pandemic has created. In early April, we used the word surreal to describe our earliest experiences with the Coronavirus pandemic. As we move into the tenth month of this pandemic, that word is still appropriate. Your food bank continues to face the most surreal car lines. The numbers of those we serve continue to leave us shocked. The sheer amount of food that we continue to purchase and distribute is unbelievable. The economic crisis that has been caused by this pandemic will continue to disrupt the lives of those who are hungry for many more months to come.
Through it all, your food bank remains steadfast in its commitment to lead our community in the fight to end hunger. Your food bank will continue to be a conduit for our community to unite and provide a safety net for our community. Your food bank will do everything in its power to ensure that no one has to go hungry.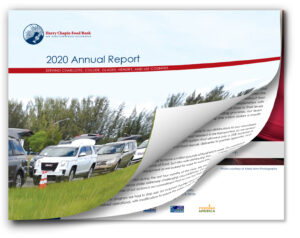 We are proud to report that we recently published our fiscal year 2020 annual report which spans July 1, 2019 through June 30, 2020. As you flip through the pages, we encourage you to celebrate the programs that have made a difference in our community. We celebrate the many that help us lead our community in the fight to end hunger.
To read the 2020 Annual Report, click here.
To support our efforts, please click here.
If you are looking for food, please click here.
If you are well, able, and willing to volunteer, please click here to sign up.