As of Monday, March 30, 2020
Today we began our Coronavirus distribution strategy: drive-thru distributions. We distributed prepacked shelf-stable food kits and supplemented the food kits with fresh food products in Charlotte and Lee Counties. While we are heartbroken at how many people waited in the car line to receive our food kits, it was encouraging that our system was rather smooth. We are grateful to our volunteers who helped with distribution. We have identified twelve different locations throughout our five-county footprint, to find our next distribution, click here.
Your food bank has been working diligently to secure more food. We have been able to capture and rescue food from the restaurant industry and area hotels and country clubs due to the recent mandated closings of dining rooms. We are starting to see a slight increase in the amount of food that we rescue from our retail stores, however, we are nowhere near our normal non-coronavirus levels. Please help us to continue urging our fellow Southwest Floridians to stop hoarding while shopping.
Many of our partner agencies are relieved that our deliveries while limited in selections have increased slightly. Your food bank provides our partner agencies with more than 70% of their inventory so when we experience a disruption in our food sourcing channels there is a significant trickle-down effect. Our partner agencies by and large are still open, although the number of closures has increased. We are proud of how creative many of our partners have become by changing their distribution models so that they maximize social distancing. To find the most current operating hours and dates of our partner organizations please click here.
Our need for volunteers remains a critical requirement for the success of our operations. The time they give is an essential ingredient in our sound financial management. We have adjusted our volunteer schedule to stagger and limit the number of volunteers in our facilities. As volunteers arrive for a volunteer shift, we are inquiring of their health and about possible recent travels. We will not allow anyone who has been out of the country or not feeling well to volunteer. If you are well, able and willing to volunteer, please click here to sign up.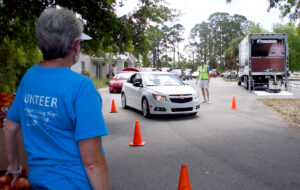 Our incredible volunteers continue to build food kits for our drive-thru distributions. Your food bank presumptively purchased the first week of food; as funding is received, we purchase subsequent weeks of food. Our ability to provide these kits will lie squarely on our ability to raise the necessary funds.
Each kit is roughly 20 pounds of food and provides a family of four food for five days. The cost is $30 per kit. Our current plan is to distribute 5,000 kits. Our cost is therefore $150,000 per week or $600,000 monthly.
Now more than ever, our mission needs the help of many to ensure that no one has to go hungry. Click here to make a gift. Together we can continue to serve those who are hungry in our community.